In order to verify and certify official public and private documents in South Korea, there is a need to legalize these documents by Apostille and/or Notary Public. South Korea is a member of the Hague Apostille Convention since July 14, 2007.
KOISRA UP is specializing in documents authentication, documents certification, document translation, Notarized translation, document notarization and Apostille services in Korea for over 10 years.
In order to ensure top quality of our services we only work with licensed Korean notary public (공증사무소). Due to our experience we offer the most convenient Notarization and Apostille Agency Services in South Korea.
According to the Apostille Convention, an Apostille is an international certification that certifies the validity and authentication of public documents between members' countries such as South Korea. It also verifies that the document is original and was issued by the legal and appropriate authority in Korea.
In addition, an Apostille verifies the authority of a Notary Public to notarize documents. It validate the Notary Public signature on the document and also confirm that such Notary Public is registered Notary according to the law in Korea.
Almost all the documents officially issued by any agency of the Korean government can be authenticated by Apostille. Those include documents such as: Company Registration Certificate, Business Tax Certificate, Article of Incorporation, Business License, Certificate of Good Standing, Certificate of Free Sale, Certificate of Trade Business Code, Notarially Certified Translation and many more.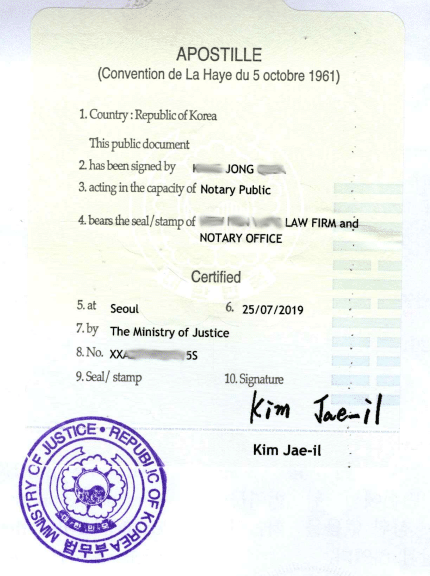 According to the type of document and the body who issued it, there are two bodies who can issue Apostille in the Republic of Korea (South Korea):
The Ministry of Justice (Korean: 법무부)
Ministry of Foreign Affairs (Korean: 대한민국 외교부)
In Korea the Apostille itself is a printed form consisting of 10 numbered standard fields. On the top is the text APOSTILLE, under which the text in French "Convention de La Haye du 5 octobre 1961" ("Hague Convention of 5 October 1961") is placed. This title must be written in French for the Apostille to be valid. In the numbered fields, the following information is added:
Country: [e.g. Republic of Korea]
has been signed by [e.g. Min Jeong Park]
acting in the capacity of [e.g. Notary Public]
bears the seal/stamp of [e.g. Park Notary Office]
at [e.g. Seoul]
the … [e.g. 29 July 2019]
by … [e.g. The Ministry of Justice]
No … [e.g. XX1234512345]
Seal/stamp … [of the authority giving the Apostille]
Signature
KOISRA UP is a service agent for Apostille, Documents Notarization, Notarized translation and Authentication in South Korea. Therefore, we must review your documents in advance before we can decide whether we can service you or not. Please send them by email for our review. The original documents shall be provided, however if you don't own them, we may be able to issue them for you from the relevant government agency.
Please note that Walk-in Service to our office without appointment isn't available.
I really was happy with the service your company provided. You said when you were going to deliver the apostille and your company did it. I am happy that I found your company and that you were able to help me get an apostille. Thank you.
Joshua B.
Everything about your business was superb! Carla Lee was wonderful to work with. You worked expeditiously and were very professional. Thank you KOISRA UP for all of your help!
Adv. Brooke H. - Udall Law Firm
Carla was excellent. She replied promptly and clearly to queries, and made the whole process easy for me.
Jen H. B. Hoa
Carla was there every step of the way. She was prompt in replying to us. Her answers were clear and she understood what we needed. We appreciated that our documents were translated ahead of time so the notary could sign relatively quickly on our visit to the notary office. The service was important and she helped us by using a quicker mailing service so our documents could get to the US faster. We really appreciate all of the help and attention at every step of the process.
Catherine A. B.
The KOISRA employees I corresponded with were very professional, clear and prompt in communication, and my apostilled product arrived without an issue.
Lucas R.
Very good! Fast and very efficient. I am 100% satisfied with the documents that's provided to me and I will come back if needed. .
Tian L.
Very clear, concise information and responses from Carla with all matters in my enquiries regarding notarization and attesting my document. .
Alan S.
Carla was very nice and she provided so much information. She helped me throughout the whole process and was quick to answer all my questions. Thank you. .
Jirapat J.
Do You Need Apostille or Notarization in Korea?
Call Us: +82-70-5038-4101, Send an Email or Leave us a Message in the form below. We will be happy to answer your questions!
This Service also known as:
Apostille Service in Korea, Apostille Process in Korea, Documents Notarization in Korea, Documents Authentication in Korea, Certification of Korean Public Documents, How to Apostille Documents in Korea, Verification of Public Documents in Korea, Notary Public in Korea, Apostille Validation in Korea, Apostille Company Registration Certificate in Korea, Apostille Article of Incorporation in South Korea, Notarially Certified Translation from Korean to English, How to Get Apostille in South Korea, Notarized Apostille in Korea, Notarized translation in Korea